Details

Category: Noticias
Fifteen of these are for 'La trinchera infinita', by Aitor Arregi, Joxe Mari Goenaga, and Jon Garaño, the directors of 'Handia', another four are for 'Ventajas de viajar en tren', by the director from San Sebastian, Aritz Moreno, and the last one is for 'Elcano y Magallanes, la primera vuelta al mundo', by the animation studio, Dibulitoon. The Basque film, 'La trinchera infinita', shot with the support of the San Sebastian-Gipuzkoa Film Commission, is competing in the best film and best director categories. It has also been nominated for best new actor (Vicente Vergara), original screenplay (Luiso Berdejo & Jose Mari Goenaga), best leading actress (Belén Cuesta), leading actor (Antonio de la Torre), photography (Javi Agirre Erauso), production manager (Ander Sistiaga), original score (Pascal Gaigne), editing (Rául López & Laurent Dufreche), costume design (Lourdes Fuentes & Saioa Lara), art direction, sound (Iñaki Díez, Alazne Ameztoy, Xanti Salvador and Nacho Royo), make-up and hairstyling and special effects.
Details

Category: Misiones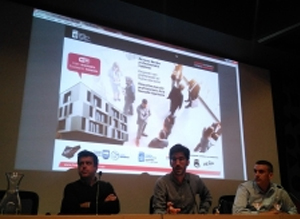 El pasado 15 de noviembre tuvo lugar en el Pi@ una jornada y encuentros bilaterales entre empresas de producción de Nueva Aquitania y empresas del sector cinematográfico guipuzcoano con el objetivo de promocionar el territorio guipuzcoano como lugar de rodaje. San Sebastian-Gipuzkoa Film Commission, organizó en colaboración con las asociaciones de empresas de producción IBAIA, Asociación de Productoras Audiovisuales Independientes del País Vasco y PEÑA, Produire en Aquitaine, un encuentro con empresas de ambos lados de la frontera ...
Details

Category: Noticias
La película que mejor refleje los valores urbanísticos, naturales, culturales o sociales del lugar en la que fue rodada, será galardonada con un premio de 7.000€ para la productora y de 3.000€ para la Film Commission colaboradora. El jurado que decidirá cual es la cinta ganadora está conformado por la actriz Goya Toledo, el guionista de 'Handia', José Mari Goenaga, la periodista de TVE, Elena Sánchez, el experto en diseño, Carlos Barrabés, y la actriz Bárbara Goenaga. El premio se entregará en el marco del Festival de Cine de San Sebastián de este año ...
Details

Category: Noticias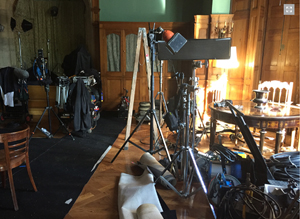 Tras siete semanas de rodaje en tierras guipuzcoanas y navarras, hoy se han filmado las últimas escenas de la película "El hijo del acordeonista", basada en la novela de Bernardo Atxaga. Esta producción ha contado con la colaboración de la recién creada San Sebastián – Gipuzkoa Film Commission, la oficina que facilita los rodajes en el territorio guipuzcoano ...
Details

Category: Jornadas
La Tenencia de Alcaldía, a través de Fomento de San Sebastián, ha organizado una jornada dedicada a la transformación digital dirigida a las empresas y profesionales locales. En la sesión tomarán parte destacados expertos expertos en la materia  y, además, se presentarán dos casos prácticos que expondrán los retos a los que se están enfrentando en su transformación digital ...